A landing page is a "lead capture page," a standalone page that a visitor arrives at after clicking an ad or a search result. These types of pages focus on promoting a single offer. If you're business is still using the homepage as a "landing page," it's no wonder you've seen high bounce rates and low conversions. A landing page should focus solely on what product or service you are promoting.

An optimized, dedicated landing page gives potential customers the necessary information required to make a decision and complete the conversion goal.
Do your landing pages need some TLC? Here are some simple tweaks to increase conversions and create a rad landing page.
Although every business has its own definition of a high conversion rate. All marketers use a conversion rate to determine how well their marketing efforts are performing. CRO (Conversion Rate Optimization) should be done monthly to refine website functionality.
1.) Buttons
The click of a button essentially means the product is picked up from the shelf at a store for purchase.
Test changing the words on the button, color, and shape. Everyone and their moms uses "buy now," try to think of something witty and on brand to capture a buyer's attention.
2.) Forms
The reality is… not everyone will purchase on the first visit. You have to reel them in. This is where newsletter signups reign supreme. The signup form shouldn't include every option under the sun. That would stray potential customers from not filling out the entire form and leaving the page.
Always include: Name, email, and whatever is MOST RELEVANT to your business goals. Age, location, occupation isn't vital information to all companies.
3.) Mobile
Efficient landing pages must be mobile friendly. In 2018, 52.2% of all worldwide online traffic was generated through mobile phones, up from 50.3% in the previous year (Staista, 2018). Do you think this trend will suddenly take a downfall? Nope. Design with mobile in mind, first.
4.) Credibility
Bombarded with Instagram ads lately on the hottest new tech item, teeth whitening strips, or massage chair? Actual testimonials and reviews are what makes the quality products stand out. Testimonials, usually videos, product reviews, and awards help to build credibility.
Share widgets help increase credibility because then we know others are into this product also. Even listing or showing logos of well-known brands you've worked with increases your knowledge power because if Honda trusts your work, shouldn't the average person?
5.) Declutter
Clutter is not your friend. If a landing page is throwing a million and one things at you – how likely are you to actually purchase or give your email up? Clear, cut copy and some white space are good for a landing page because the customer won't feel bombarded from every direction.
6.) Ditch the nav bar
Ditch the navigation bar, you don't want to distract people, keep it simple and exclude navigation on landing pages. You don't want potential money makers to click out of the page. You want them to move further through the conversion funnel. Leaving the nav bar out on a landing page could increase conversions by 30-40%.
7.) Graphics
Last but not least, great graphics are essential to reeling in the catch. Motion video + human faces.
Videos (short and sweet) keep our attention. Seeing an actual human in the photo with your product or using it shows personability. No one will be intrigued to convert being shown a plain photo of a shoe. Show someone doing a slam dunk, well then we all want those sneakers.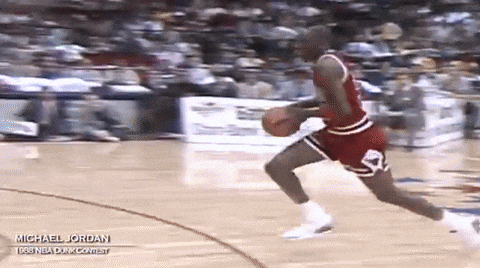 In short:
Create killer copy and cool graphics. Only advertise what was being promoted in your ad. Don't overwhelm the audience. Optimize for mobile.
Don't forget — test. test. test. For maximum results.
Need help creating an awesome landing page and increasing conversions? Give us a shout.